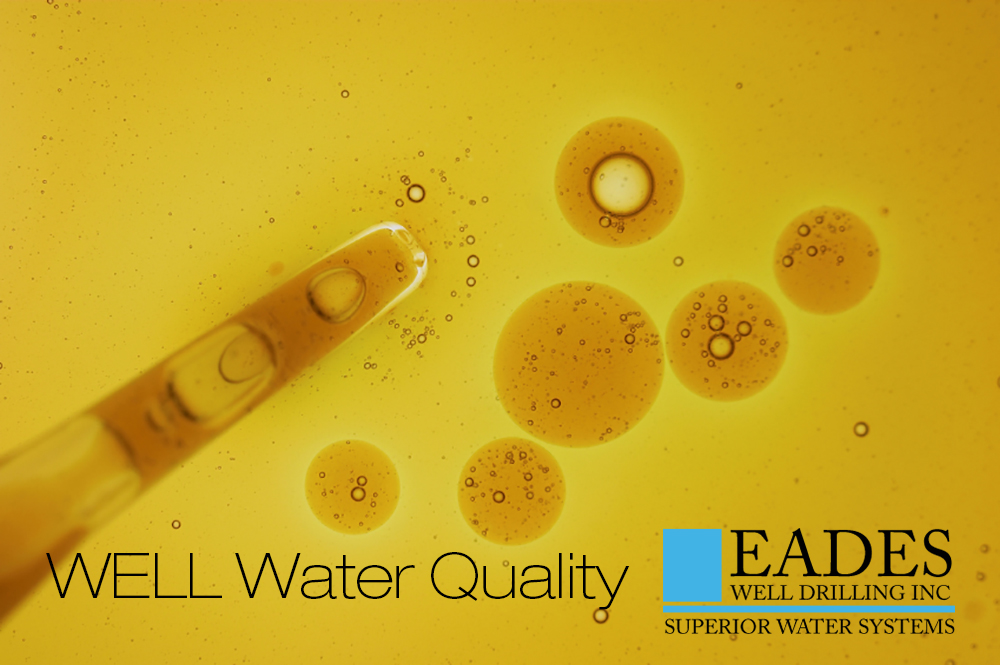 WELL

WATER

QUALITY

&

SAFETY


Surface Contamination Seepage ?
CALL

EADES

NOW

1 705 374 5480 | 1 877 270 9355 | eMail
What's In Your Well ?
Did you know many old­er water wells in Ontario are not up to today's M.O.E (Min­istry of Envi­ron­ment) standards.
These wells are at high risk for sur­face con­t­a­m­i­na­tion such as col­iforms, e‑coli, and oth­er pol­lu­tants, affect­ing the health of every­thing that drinks from the well.
Many of these wells are dug or cre­at­ed from old­er obso­lete methods.
EADES WELL DRILLING will look after your sys­tem and have it per­form­ing optimally.
Problem Wells
&

Shock Chlorination
Bac­te­ria such as iron-relat­ed (IRB) and sul­fate-reduc­ing bac­te­ria (SRB) are com­mon con­t­a­m­i­nates that may coat the inside of the well cas­ing, water pip­ing and pump­ing equip­ment, cre­at­ing prob­lems such as :
plug­ging of water treat­ment equipment
reduced well yield
restrict­ed water flow in dis­tri­b­u­tion lines

"

rot­ten egg" odour which may pro­duce small amounts of acid that can cor­rode the well cas­ing and pump­ing equipment
stain­ing of plumb­ing fix­tures and laundry
Increased cor­ro­sion of the met­al parts of the well and dis­tri­b­u­tion sys­tem is also an indicator.